---
Strategic Plan for Adventure Tourism
in Knott County

Encourage bicyclists to come to Knott County.
The TransAmerica Bicycle Route across the United States established in 1976 travels eastward out of Owsley County along Highway 28 across Breathitt County then turning south towards Buckhorn through Perry County following Highway 15 then east on Highway 80 into Knott County.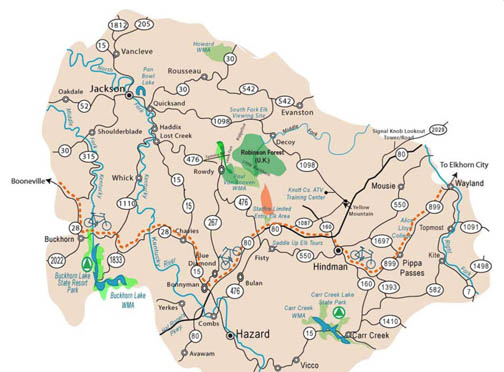 ACTION TO TAKE: Knott County needs to capitalize on the fact that the TransAmerica Bicycle Route* goes through their county by providing markers along the existing route, and developing brochures highlighting worthwhile stops along the way such as the Artisan Center and Alice Lloyd College, two locations many bicyclists are already stopping at each week.
MAP OF EXISTING AND PROPOSED BICYCLE ROUTES THROUGH KNOTT COUNTY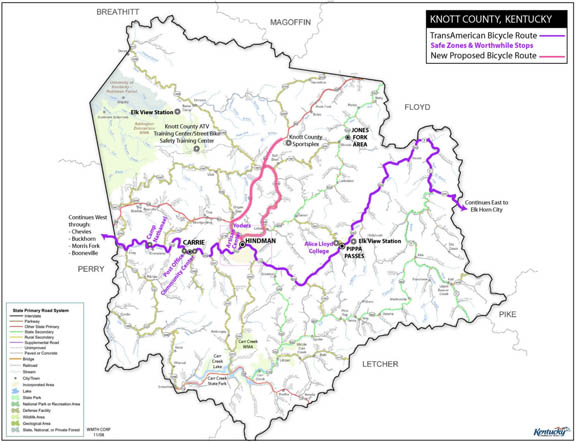 *A map and additional information on the TransAmerica Bicycle Route is provided at the end of this section.
REQUEST FOR AN ADDITIONAL STATE-RECOGNIZED BIKE ROUTE THROUGH KNOTT COUNTY
A very worthwhile bike trip would be to start at the Knott County Sportsplex, go 6 miles west on Hwy 80 (6' to 8 foot shoulders on both sides of the road make an excellent bike route).

Continue west to mile marker 8 then turn left onto Hwy 160. Be sure to stop at the Tourism Commission Kiosk and Yoder's Bulk Food Store where one will find delicious homemade bread, other bakery items, and more.

Continue South on 160 then right onto Hwy 550 finds one in downtown Hindman. The Artisan Center is a must stop and has an excellent café. Just down the street a block, one can see artisans at work.

---
Leaving the Artisan Center, head east on 550, turning left at Leburn onto Hwy 1087/1098, a very scenic road offering little if any shoulder but a very scenic road with very light traffic.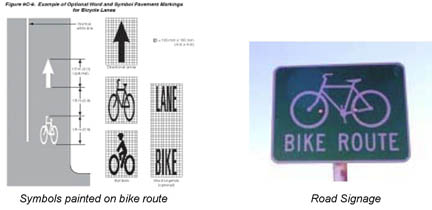 ACTION TO TAKE: Submit a proposal to the Kentucky Department of Transportation Multi-modal Program to include this route and request street signs and, where feasible, painted signage on the road (as shown above).
Two groups to notify about bicycling routes through Knott County include: