---
Strategic Plan for Adventure Tourism
in Knott County

Motorcycle Tour Routes
Encourage motorcyclists to come to Knott County
There are many wonderful windy and scenic roads through the mountains of southeast Kentucky. Motorcyclists love these types of roads. To this end, Knott County recently opened a street bike safety training course at Sutton Memorial Park in the northeast quadrant of the county. They are encouraging people to come to Knott County for motorcycle safety certification. (See APPENDIX III for more on the Street Bike Safety Center). It would be highly recommended that Knott County also develop and market motorcycle routes through their county for people to "test their safety skills they have learned" while enjoying the scenic roads.
A few of the routes include:
| | | |
| --- | --- | --- |
| Artisan Center in Hindman | | Scenic beauty at German Bridge |

A few of the scenic and windy roads a motorcyclist will find along the route.
All the recommended routes are featured on the map on the following page. Brochures and a website should now be developed encouraging people to get their training and ride their bikes through Knott County.
RECOMMENDATION: Knott County should become a motorcycle friendly community by adding special signage, providing detailed maps that include locations of gas stations, scenic views, and worthwhile stops and encouraging motorcycle clubs and groups to visit.

And do not limit the routes to just Knott County. Partner with other counties to develop multi-county and multi-state rides because motorcyclists love to ride. The consultant met two riders staying at Jenny Wiley State Park who had road their motorcycles all the way from Cincinnati following the back roads.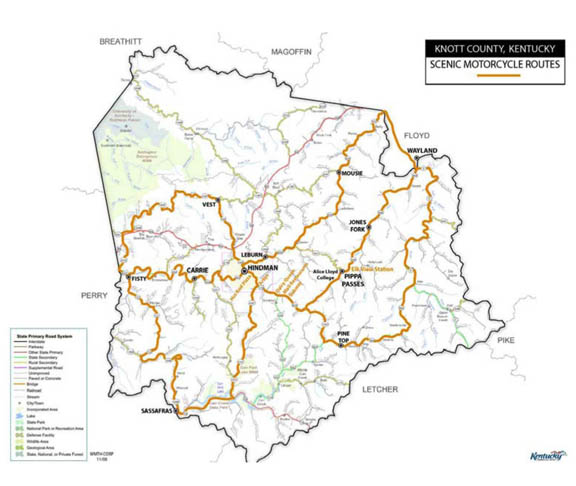 FOLLOW-UP NEEDED:
In one of the meetings, it was also noted that Combs Custom Cycles and Budweiser have a strong connection. It was also noted that Knott County has a connection with NASCAR and Petty racing. It is highly recommended that these connections be further researched.