---
Strategic Plan for Adventure Tourism
in Knott County

Lodging was the number one need mentioned in nearly every strategic planning meeting throughout the county. As noted in the overview of recommendations, Chestnut Mountain Development located off Hwy 80 and in close proximity to the Knott County Sportsplex was the most logical location for a hotel (See APPENDIX V for more on Chestnut Mountain). The development of bed & breakfasts, cabins and campgrounds throughout the county was als considered a priority. Depending on where each are located, potential clientel could include families, hunters, bikers, horseback riders, wildlife enthusiasts and boaters. As noted earlier, "all seemed to agree that whatever was built, it should be built well. No one wanted to see shacks or used worn out trailers. Knott Countians desire to become a 'premier quality location to vacation'."
Four proposed sites for campgrounds and other lodging include:
Additional campgrounds and possible cabins in the Jones Fork and Burgey's Creek areas are being considered. The county has also signed an agreement with landowners for ? acre of property near the intersection of Hwy 582 and Hwy 7 near Puncheon and Joe King Branch to develop an ATV Trailhead for the ATV Fire Trail #2 (See Trail Development). Private landowners are considering building cabins and expanded parking area to hold special events.
---

| | | | |
| --- | --- | --- | --- |
| Entrance from Hwy 15 could be used for ATV trailhead | Old Hwy serves as primary road through proposed campsites | Proposed campsite ends at water's edge w/boat access to Carr Creek Lake | Red Fox playground parking located nearby |
POTENTIAL CABINS AND CAMPGROUND AT PIONEER VILLAGE
Years ago when Carr Creek Lake was made, a few of the existing log structures were moved to a location just east of the intersection of Hwy 160 and Hwy 15. Through the efforts of LKLP, an economic development organization, the land and buildings became part of Pioneer Village, a site for artisans and crafters to sell their work to the public. At its peak, over 70 artisans displayed and sold their artwork at the site. Although very popular with tour groups and visitors, the facility closed in 2005 due to lack of funding. The site has both water and electricity and includes restroom facilities, a covered pavilion, large rock fireplace, plus a small two-stall log stable (not shown) and approximately 100 acres. There
are also two cabins on-site. One cabin offers a fireplace and air conditioning and could become lodging for visitors with very little work required. The second log cabin is a two story structure with two rooms on one side and two on the other separated by a dogtrot that includes a shared restroom on the lower floor. At some future time, kitchen facilities could be added to the lower rooms and turn the upper rooms into sleeping areas or all four rooms could become efficiency apartments for visitors.


| | | | |
| --- | --- | --- | --- |
| | | Dogtrot between structures | |
ACTION TAKEN: The LKLP organization has agreed to give the County Fiscal Court the
Pioneer Village Property which they intend to develop into lodging for visitors, a campground and trailhead.
The county is now looking into the option of developing a trail system across reclaimed coal
lands in which trails already exist in order to connect this site to the proposed Littcarr Horse
Camp.
| | |
| --- | --- |
| | Concept idea for combined showerhouse & restrooms |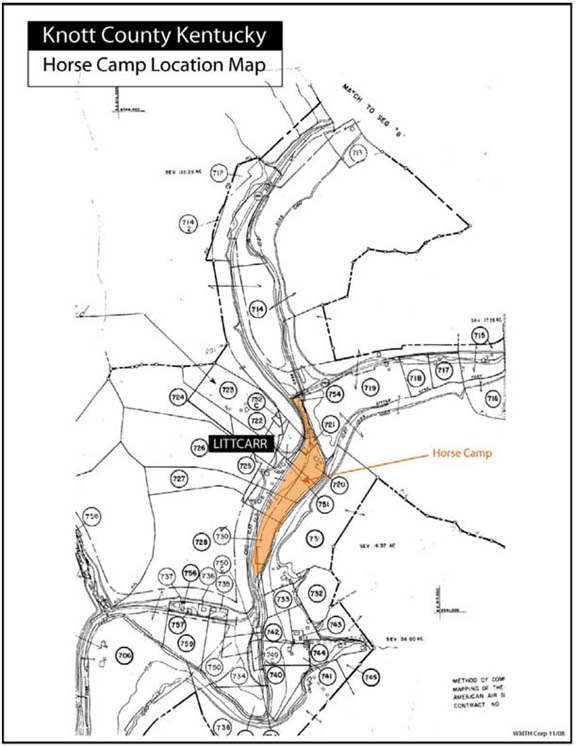 Below is a map showing both the proposed horse camp (strategically located near U.S. Corps of Engineers Littcarr Campground to allow shared use of shower houses and restrooms) and the proposed Shingle Branch trailhead located right off Hwy 160 in the southern quadrant of the county. Both the trailhead and horse camp are in close proximity to miles of equestrian trails on reclaimed coal properties east of the proposed campsite as an additional 6 miles of trails just north of Carr Creek Lake.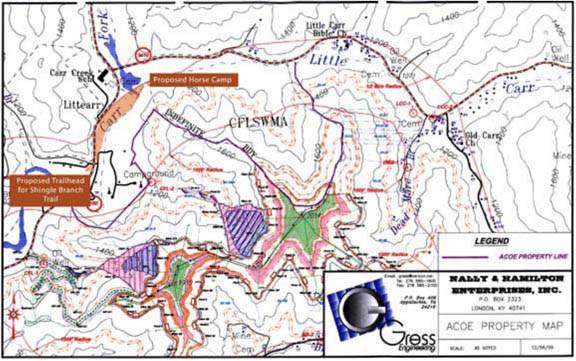 | | |
| --- | --- |
| | One is designed for areas that are more shaded. More information on stables can be found in APPENDIX II. |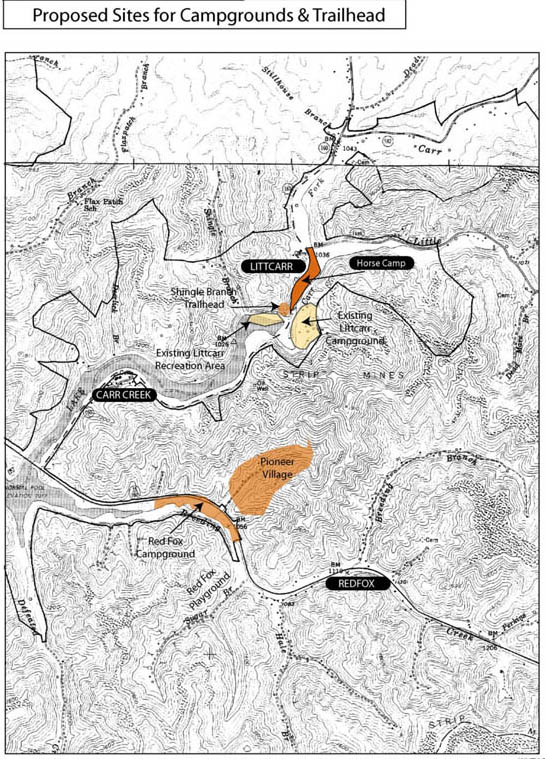 RECOMMENDATION: It is strongly recommended that the private sector be encouraged to
build additional lodging in strategic locations throughout the county. Below are a few examples of cabins. Go to APPENDIX I for additional ideas and concepts.