---
Strategic Plan for Adventure Tourism
in Knott County

Develop additional trails as part of the vision of establishing a "county-wide adventure tourism park system".
---
As noted on the maps on pages 34 and 36, there are four different areas of the county developing horse trails and five developing ATV trails in Knott County. Only the ATV and horse trails in the northwest quadrant of the county have been GPS mapped, landowners identified and signage added.
GOAL #1: GPS map all existing trails in the county and identify ownership.
An ARC grant has been received by the Knott County Fiscal Court to map the trails, identify ownership and obtain permission from the property owners to open the trails for public use.
ACTION TAKEN:


*Please Note: Detailed maps and information on all of the above trails are available upon request and will be included in a final report on trail development in Knott County which will be available in January 2009.
ATV TRAIL DEVELOPMENT: Trails in the sections of the county highlighted in blue are now being mapped and property owners identified to determine willingness to open the trails for public use. Best site locations for trailheads, camping, and basic infrastructure such as water and restroom facilities are also being considered.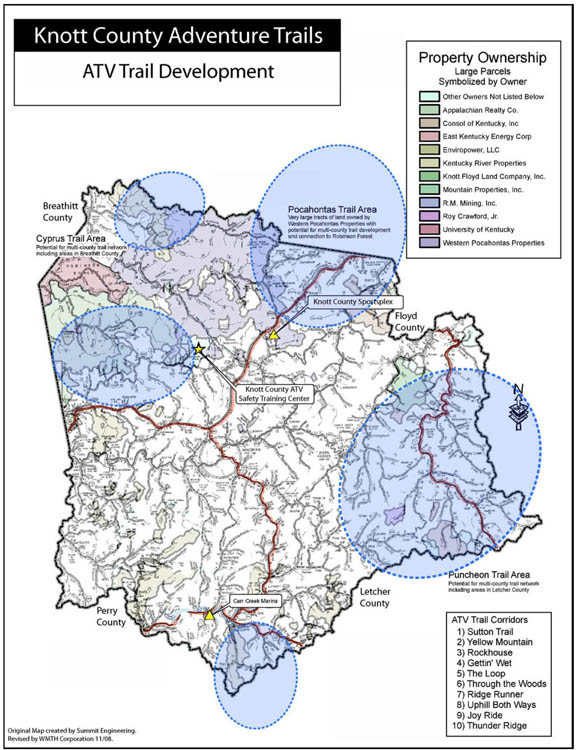 ---
There are three horse trails in Knott County that have been developed, GPS mapped, and signage added. They are located on Western Pocahontas property in the northwest quadrant of the county using the Sutton Memorial Park near the Knott County ATV Training Center as the trailhead. These trails are currently being used for both the Spring and Fall Knott County-sponsored Trail Rides held annually.
This year's Fall Trail Ride attracted over 4,000 riders and 2,500 horses.
NEW HORSE TRAILS AND PROPOSED HORSE CAMPS:

| | | |
| --- | --- | --- |
| | Ample parking and easy access | Overflow parking, restroom facilities & playground nearby |

Carl Gibson, one of the property owners, is providing assistance in mapping the trails and identifying other landowners on this reclaimed coal site.
HORSE TRAILS: The map below highlights locations in Knott County where horse trails, trailheads and/or horse camps are proposed. Trails are currently being developed and property owners identified to determine willingness to open their land to the public.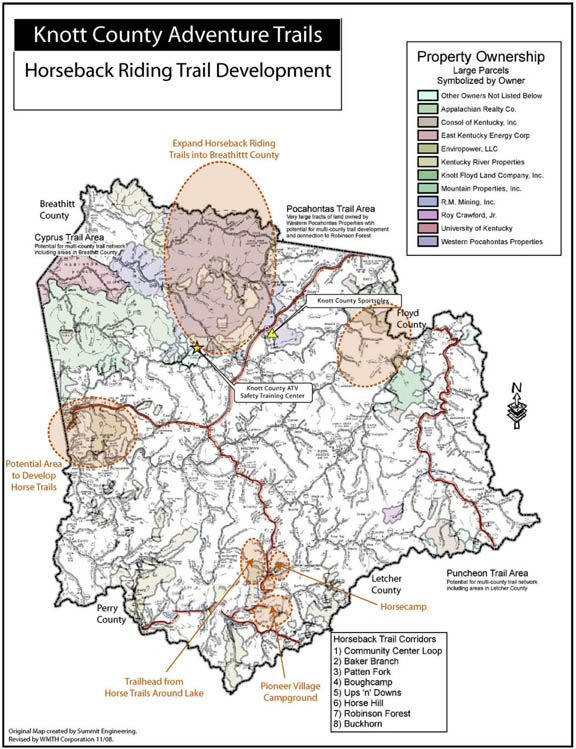 KNOTT COUNTY OVERALL TRAIL MAP:
Below is a map of Knottt County which displays the location of each of the trails being developed within the county. Horseback riding trails are featured in yellow and ATV trails are in red.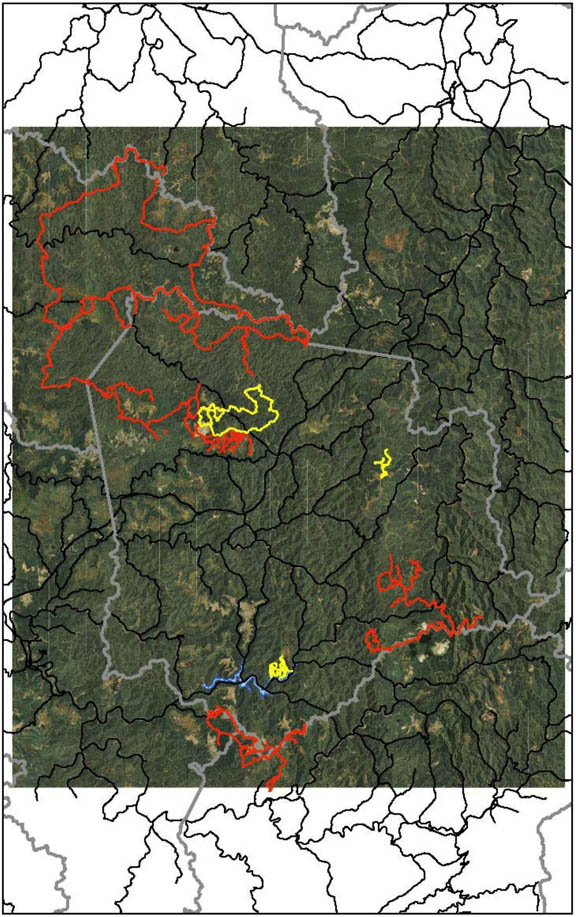 Trails* noted on the map include: