Economic Impact Studies
(coming soon)

---

PHASE III - EQUESTRIAN CENTER & RV PARK
Individuals have expressed strong interest in reestablishing the Knott County Horse Club that until recently, held trail rides, cookouts and overnight camping trips that drew as many as 200 riders to an event. To this end, a weekend ride has been planned the first weekend in October 2006. Already the positive response from the horse community has been overwhelming. One individual who has been offering riding lessons in the area has developed a business plan to expand her business in anticipation of the renewed interest in horseback riding in the area.
CONCEPT DESIGNS FOR EQUESTRIAN FACILITIES.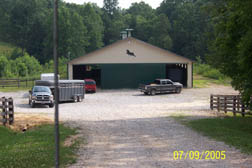 POSSIBLE SITE FOR RV PARK
concept ideas to include pads, water/electrical hookups, showers. Possible Site - see below.