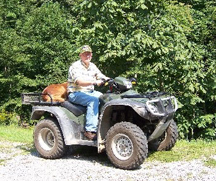 Knott County's First Annual Ground Poundin' ATV Trail Ride.
On April 20-22, 2007, the Knott County Trail Riders held their First Annual Ground Poundin' Trail Ride. Over 450 attended the event on Saturday with people coming from as far away as Dayton, Ohio and North August, South Carolina. 389 people registered. Sixteen Kentucky counties were represented (Bath Boyd, Breathitt, Floyd, Greenup, Knott, Leslie, Letcher, Madison, Magoffin, Martin, Perry, Pike, Powell, Warren, Woodford) and six counties in Ohio (Crawford, Cuyahoga, Greene, Montgomery and Warren). 50 or more riders came just for Sunday's ride but names and addresses were not collected on that date. Total attendees for the 3-day event was estimated at just over 500 people. Click here for photos from the Spring event.
Click here for a flyer from that event.