County Website

Ansted
Gauley Bridge
Glen Jean
Mt. Hope
Thurmond

Alum Creek
Branchland


Davy
Iaeger
Kimball
Roderick
Twin Branch
War
Welch

Historic Matewan
Williamson
Dingess
Red Jacket

Itmann
Mullens
Oceana
Sabine
Wyco
Wyoming
---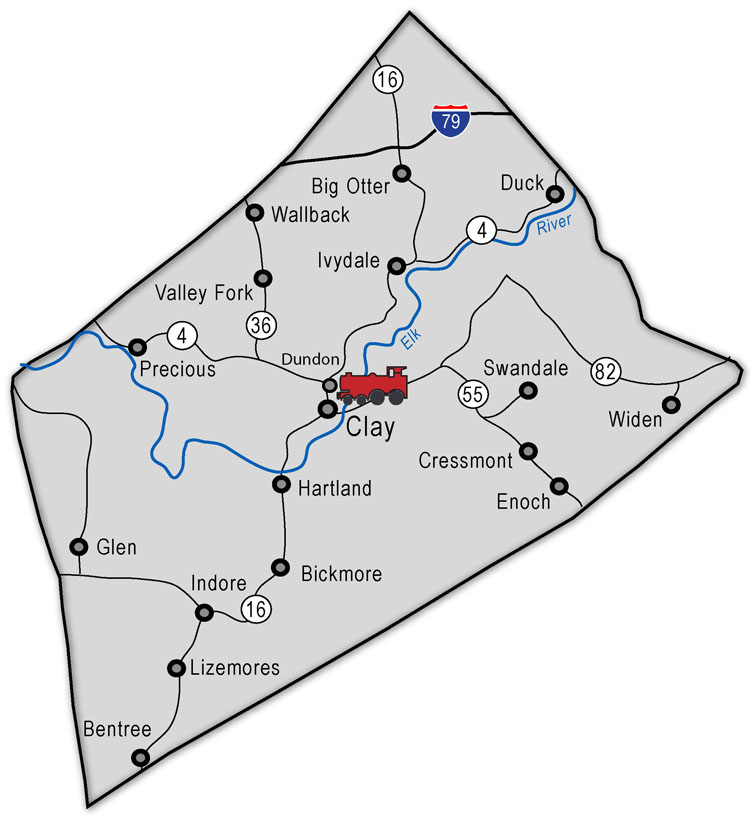 ---
CLAY - DUNDON
HISTORY
DUNDON
The Buffalo Creek & Gauley (BC&G) Railroad began service in 1904 to trade coal and supplies between the Rich Run Mine in Widen, West Virginia and the Baltimore & Ohio (B&O) Railroad in Dundon. In 1918, a log train was added to service the booming sawmill in Swandale, halfway between Dundon and Widen. Log trains hauled the region's timber to Swandale, and then distributed the milled lumber all over the country via its connection to the B&O. At its peak, Swandale had over 400 residents and was a thriving industrial operation.

The BC&G operated full time until 1964. Part of the line was rebuilt in the late 1970s and early 1980s, but was later abandoned when flooding washed out the Buffalo Creek Bridge. Please Note: The railroad is not open but the JG Bradly Campground is open for RVs and campers. Water & electric on site.

Click here for more information. Photos were provided by Rick Connell.
Buffalo Creek & Gauley, by William E. Warden includes a lot of information of the BC & G along with a lot of photos. To order, click here.

The Elk River Railroad came into existence July 12th, 1989, when sixty one miles of out of service railroad between Gilmer and Hartland, West Virginia, was leased by a local corporation, Bright Enterprises. Several years later the well known Buffalo Creek and Gauley Railroad line between Dundon and Widen, West Virginia, was also acquired. From 1996 to 1999, the Elk River Railroad operated out of Gassaway and had a run to Avoca and further.

For more information, click here.
There is no formal interpretation of the rail/coal resources in Dundon.
It is noted in www.wikipedia.org that some of the BC & G's equipment, as well as that of it's sister railroad, the Elk River Coal & Lumber Company, have been preserved at the Cass Scenic Railroad located at Cass, WV, which is just across the Elk River from Dundon. BC & G locomotive #13 still exists and is operational as Ohio Southern #13 which is believed to be located at the Ohio Railroad Museum.
There is a Buffalo Creek & Gauley Railroad initiative currently in the works. More information coming soon.
---
For an inventory of all the tourism related offerings in Clay County West Virginia, click here.
Click here for more about Clay County.