Convention & Visitor's Bureau


Ansted
Gauley Bridge
Glen Jean
Mt. Hope
Thurmond

Alum Creek
Branchland


Davy
Iaeger
Kimball
Roderick
Twin Branch
War
Welch

Historic Matewan
Williamson
Dingess
Red Jacket

Itmann
Mullens
Oceana
Sabine
Wyco
Wyoming
---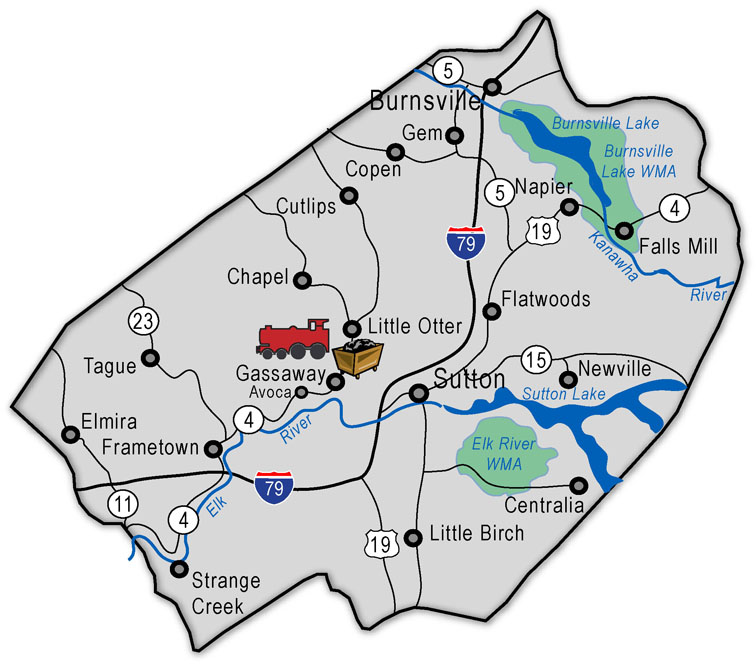 ---
HISTORY
---
GASSAWAY
In 1903, former United States Senator and one-time Vice-Presidential candidate, Henry Gassaway Davis, who had recently purchased the Charleston, Clendenin and Sutton Railroad (later the Coal and Coke Railroad), wanted to complete a rail line from Otter, West Virginia to Elkins. To this end, Davis chartered the Gassaway Development Corporation and picked a spot midway between the line's two terminal points for the construction of the line's repair shops.
In 1904 the Gassaway Development Company designed and built a town at this midpoint to service the line. The town of Gassaway was officially incorporated in 1905.
| | |
| --- | --- |
| | The Gassaway Depot, also known as the Coal & Coak Railway Company Depot, is a two-story stone and brick building of Romanasque architecture built in 1915. It is located between 4th and 5th streets in Gassaway, WV. The depot continued to operate until 1949. In 1994, it was placed on the National Register of Historic Places (#94000215). |
AVOCA
The Elk River Railroad (1996 - 2000)

Efforts were made in the late 1980's to reestablish the 61 miles of out of service track from Gilmer Station to Gassaway. Named the Elk River Railroad because much of the proposed route follows the Elk River, it was soon determined that a tremendous amount of maintenance and repair of the tracks needed to be done first. In the meantime, a section of the Baltimore & Ohio track from Gassaway to Dundon and a section of the Buffalo Creek and Gauley Railroad (BC & G Railway) owned by the Elk River Coal & Lumber Company from Dundon to Avoca was put back into operation from 1996 to 2000.
(December 20, 2001 finds Elk River Railroad Units #4/#5 in storage at Gassaway. Photo by Randy Strogen)
The loading platform at Avoca, WV mm 1.5 on the BC&G branch past Dundon

.
Photo by Chris Strogen.
---
There is no formal interpretation of the rail/coal resources in Gassaway.
The Gassaway Depot Station is in great need of renovation and not open to the public. It is viewable from a distance. One can also see a number of engines now in storage on the tracks nearby.
---
For an inventory of all the tourism related offerings in Braxton County West Virginia, click here.
---
Braxton County Convention & Visitors Bureau
245 Skidmore Lane, Sutton, WV 26601
(304) 765-3300
www.braxtonwv.org